Despite the fact that Madrid is one of the largest cities in Europe, the Spanish capital is a relatively inexpensive city compared to other European capitals like Rome, London or Paris. Fortunately there are many activities, exhibitions and free events all the year around. Not to mention the museums and monuments which must offer by law free admission at certain hours of day or days of the week.
Read on to discover the best plans to enjoy Madrid for free or at very economical prices.
Free Entrance at Prado Museum
The Prado Museum houses one of the finest collections of paintings in the world which was compiled by the Spanish kings over the centuries. The price of admission for the Prado Museum is 14€. However, you can enjoy one of the best art galleries in the world totally free every day from 18:00 to 20:00 (Sunday: from 17:00-19:00). We recommend arriving about 15 minutes before to queue.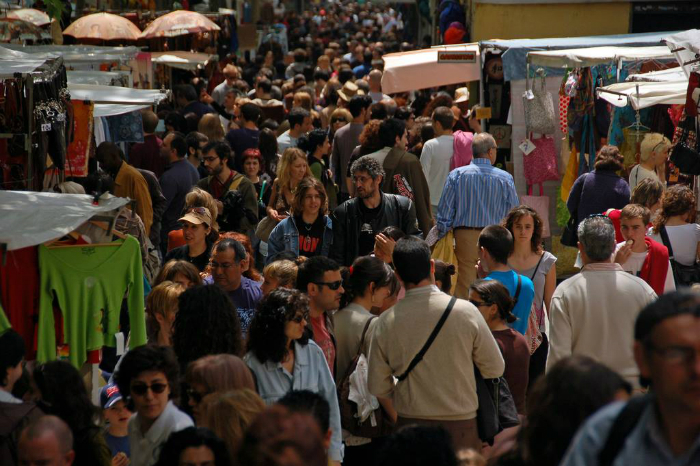 El Rastro (Flea Market)
Every Sunday the popular La Latina neighborhood becomes a giant outdoor market. The origin of the market goes back 400 years, making it one of the oldest in Europe. In total the market houses more than 3,000 stalls in which you can find almost everything you can imagine; from antique books or toys to paintings or military gear. You never know what you can find in El Rastro!
La Latina Neighborhood is also a nice area for tapas. There are many traditional taverns and bars where you can enjoy authentic tapas! Casa Amadeo (Address: Plaza del Cascorro) is one of the most frequented bars by locals. Snails here are absolutely delicious!
Price: FREE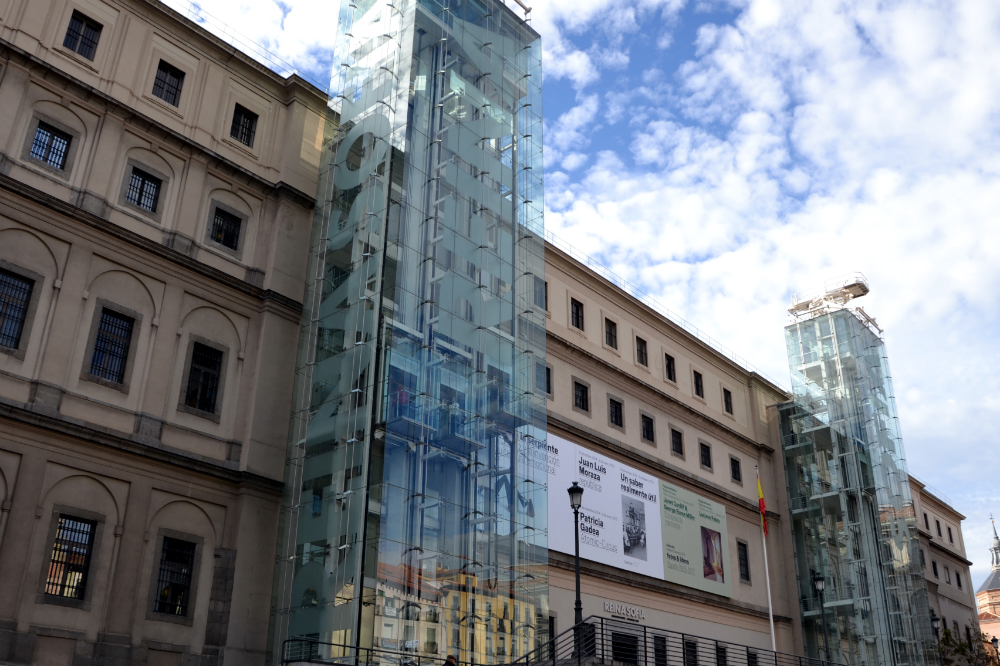 Free entrance at Reina Sofia Museum
The Reina Sofia Museum is considered as one of the best museums of modern art in Europe. The Museum includes works by renowned artists such as Joan Miro, Salvador Dali, Picasso or Henry Moore. But undoubtedly the most famous work is the Guernica (Pablo Picasso) which represents the bombing of the Basque town of Guernica in 1936. Admission is free of charge for visitors everyday from 19:00 to 21:00 (Sunday: 13:30-19:00).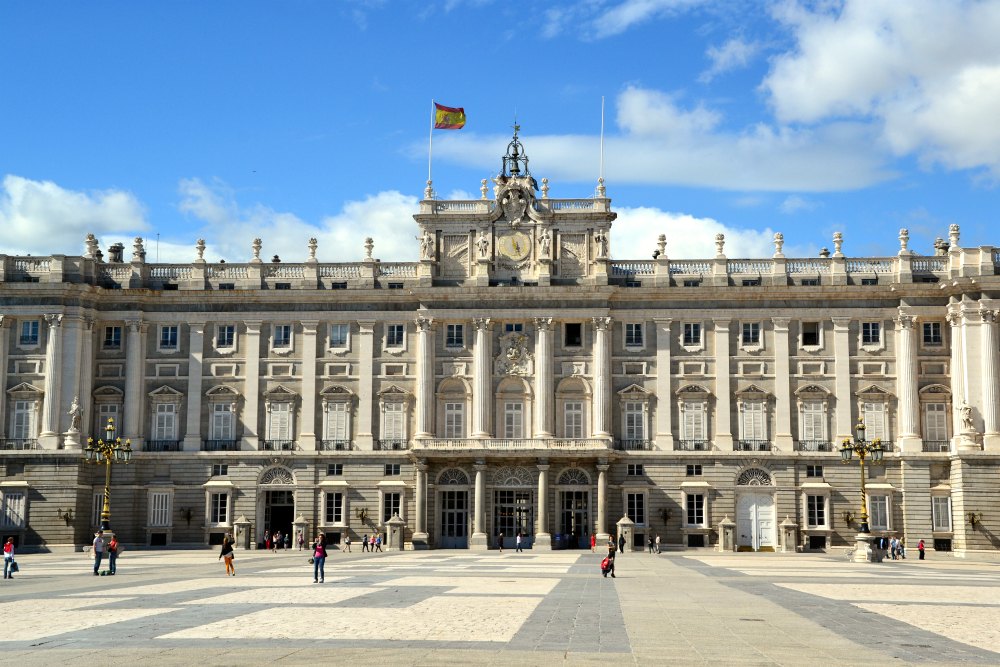 Free Entrance at The Royal Palace of Madrid
Madrid can boast the largest Royal Palace in Western Europe and one of the largest in the world (130,000 square meters and 3,000 rooms!!). Undoubtedly, its huge rooms, sumptuous decor and overwhelming luxury make the Royal Palace a must visit place in Spain. If you are a citizen of the European Union or any Latin American country you can visit for free the Royal Palace from Monday to Thursday from 18:00 to 20:00 (Spring and Summer) and from 16:00 to 18:00 (Fall and Winter). Ticket price for the rest of countries: 10€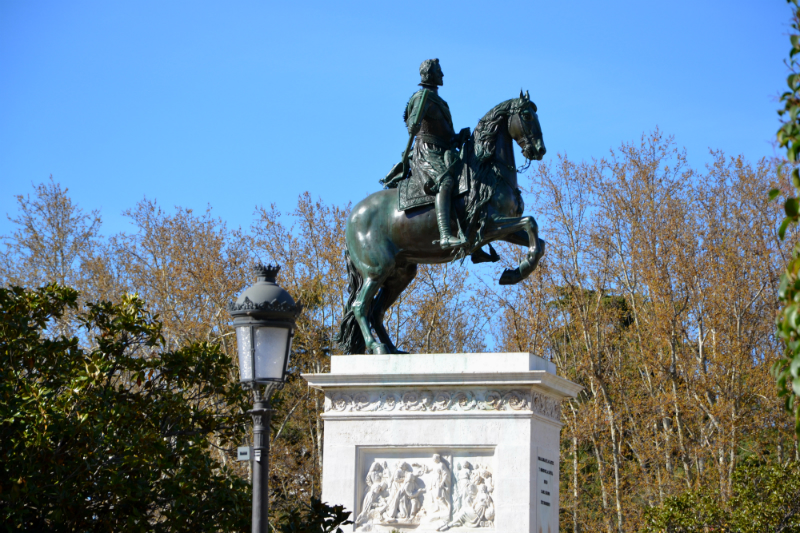 Free Tour in Madrid
Join our Free Tour in Madrid and discover the capital of Spain in a different way. For 2 and a half we will unveil the secrets of Madrid, a fascintaing city that will captivate you. We offer you a journey through the history of Spain, from the Habsburg Madrid to the arrival of the Bourbon dinasty in the 18th century. For nearly 400 years the Kings of Spain ruled from Madrid an empire where the sun never set, from America to Philippines.
Don´t think twice and join our Free Tour in Madrid! History, architecture, legends, interesting historical facts and much more. BOOK NOW! Every day at 10:45 in Puerta del Sol (Equestrian Statue of King Carlos III).
Price: Our Madrid Free Tour has a free price, at the end of the tour you decide how much it was worth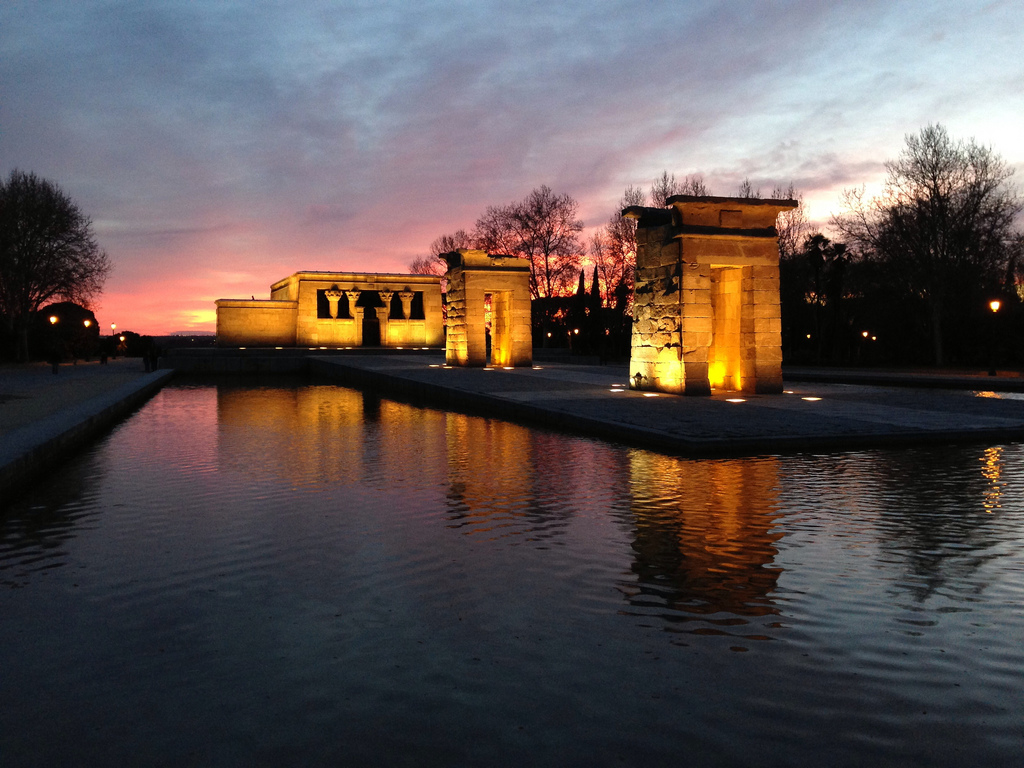 Beautiful Sunset and views over Madrid: Temple of Debod
Madrid never fails to surprise visitors and proof of this is the Temple of Debod. Many people do not know but in Madrid you can visit an authentic Egyptian temple for free. The temple was a gift from the Egyptian Government to Spain in times of Franco (1969) and was dismantled stone by stone and shiped from Alexandria to Valencia. Once in Valencia, several trucks transported the stones to Madrid where the temple was rebuilt.
Since the temple is on top of a hill, you can enjoy fantastic panoramic views of Madrid, including the Royal Palace, the Cathedral and Casa de Campo. We recommend visiting the Temple of Debod late in the afternoon to enjoy the Madrid´s most outstanding sunset.
Price: FREE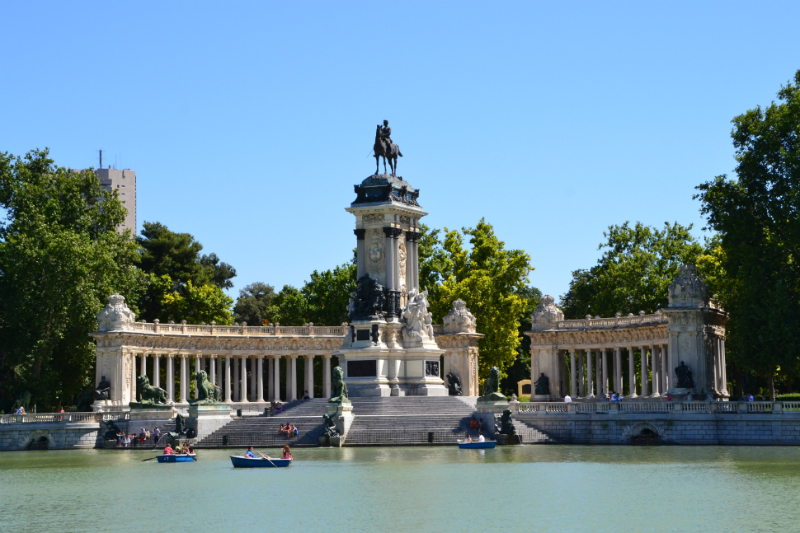 Retiro Park
This park is one of the most visited places in the city both by locals and tourists. These beautiful gardens were designed for the Kings of Spain who spent long periods in the nearby Palacio del Buen Retiro (now destroyed). The park is an oasis of peace in the heart of the city. Do not miss the Crystal Palace, a symbol of the park.
Price: FREE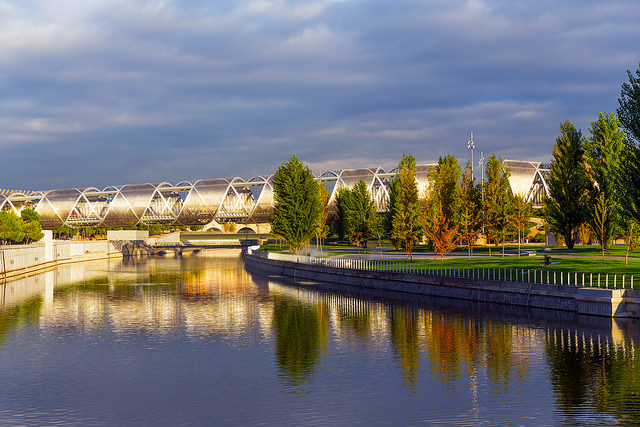 360-degree Panoramic Views
Cibeles Palace hides a pleasant surprise. If you go up to the eight floor you will find a fastastic viewpoint where you can enjoy the best views of the city center: Plaza de Cibeles, the Bank of Spain, Gran Via, Paseo de Recoletos, Torres Colon, Retiro Park, etc.
This majestic building was opened in 1919 as headquarters of the Postal Service and became a symbol of progress and prosperity for the city. Keep in mind that Spain did not participate in the First World War and many politicians, intellectuals and businessmen (including their fortunes) took refuge in Madrid.
Price: 2€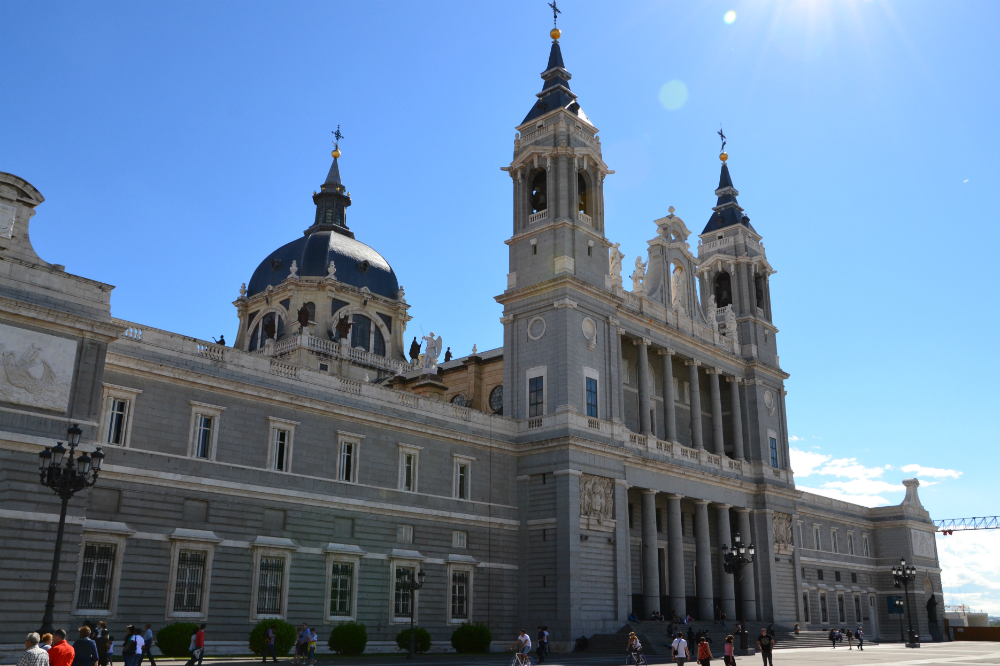 Almudena Cathedral
In front of the Royal Palace you can discover one of the most modern cathedrals in the world. The Almudena Cathedral was inaugurated in 1993 by Pope John Paul II. Despite its short existence, the Almudena Cathedral has lived historical moments such as the wedding of Prince Felipe (now King Felipe VI) or the state funeral of Adolfo Suarez (the first Spanish President after the Franco´s dictatorship) .
As you can imagine the interior of the cathedral is completely different from other European cathedrals. Still, it is a beautiful and interesting church which well worth a visit. We recommend that you visit the beautiful crypt of the cathedral (neo-Romanesque) which is situated just below the cathedral.
Price: Cathedral (1€) / Crypt (1€)
Now you have no excuse to enjoy Madrid, whatever your budget is! Find us on Facebook (OgoTours), Twitter (@OgoTours) and Instagram (OgoTours)
Photo Credits: OgoTours / Ruben Nadador (flickr / C.C.)