Anyone who has been to Segovia knows we aren't exaggerating when we say that Segovia is probably one of the most beautiful cities in Spain. The narrow stone streets, the beautiful cathedral and the majestic Roman aqueduct will transport you to another era. There are times when it seems like Segovia would be the perfect setting for a fairytale.
If you are planning a trip to Madrid, you have the perfect opportunity to discover this beautiful city, which is just 95 km (59 miles) away. For this reason, one of the most common questions from our customers is, "What is the best way to get to Segovia?" In this post, we would like to offer an answer to that question.
How to get to Segovia by bus?
This is our preferred option because of its efficiency and price. Buses leave from the Moncloa Station (in the north of Madrid) and take approximately 1 hour to get to Segovia. When you reach Moncloa Station, there are some automated machines where you can buy your ticket to Segovia. These machines accept credit cards. You can also buy the tickets directly online at www.avanzabus.com


The bus will drop you off right in the middle of the city's historic center, which is great for tourists. The Segovia train station, on the other hand, is located on the outskirts of the city, and you would have to take a taxi or city bus to get to the historic center.
"Avanza Bus" is the company that operates the route between Madrid and Segovia. This company is one of the leading companies in Spain, with a modern fleet of buses equipped with all sorts of comforts.
Price: Approximately €10 (roundtrip)
Frequency: Hourly
Trip duration: 1 hour
How to get to Segovia by train?
A modern high-speed train connects Madrid and Segovia in just over half an hour. These trains leave from the Chamartín Station and price ranges from €20-€40 (roundtrip) depending on the time, day of the week, etc.
We recommend buying tickets online (www.renfe.com) so that you can avoid waiting in the long lines that form at the station, especially on the weekend. Prices vary according to the time of day (early morning and the last trip of the day are the cheapest) and month of the year. If you buy your tickets well in advance, you can get better prices and discounts.
The only small drawback is that the Segovia Station is a bit far from the historic center, meaning you will have to take a taxi or city bus.
Price: Approximately €15-€20 (each way)
Frequency: Hourly (approx.)
Trip duration: 30 minutes
Useful tips for visiting Segovia
Barrio Judío (Jewish Quarter)
Apart from Segovia's main monuments, like the Roman aqueduct or the fortress, Segovia hides many secrets that make it a truly magical city. One of our favorite places is the old Jewish Quarter, where you'll find iconic sights like the Sinagoga Mayor, the home/palace of Abraham Senneor (an important rabbi, banker and Spanish politician from the 15th century) and the Puerta de San Andrés. Segovia was home to one of the largest and most prosperous Jewish communities in Spain in the Middle Ages. We also recommend visiting the old Jewish cemetery, located to the west of the city with marvelous views of Alcázar. The cemetery was abandoned in the 15th century after the expulsion of the Jews, so there are no gravestones left. However, the place has been restored and renovated so that tourists can learn the history of the place.
Cochinillo Asado (roast suckling pig)
Flavorful, crunchy and delicious, the star dish of Segovia is without a doubt suckling pig roasted in a wood-burning oven. These pigs are approximately 3 weeks old and shouldn't weigh more than 5-6 kg when alive. To guarantee the quality of this dish, the "Association for the Promotion of Segovia Suckling Pig" was created, ensuring that the pigs meet certain requirements and have been raised in accordance with specific quality criteria. To know if you are looking at an authentic Segovia suckling pig, look for the brand that runs from the pig's head down to its tailbone.
One of our favorite restaurants to enjoy authentic "cochinillo asado" (co-chee-NEE-yo ah-SAH-do) is Restaurante Jose María (average price per person €35).
Freezing Temps
If you travel to Segovia in the winter, you need to be well-equipped (gloves, cap, scarf, etc.) because the cold is intense and below freezing temperatures are common. Snow is also a relatively frequent event. In summer, temperatures are pleasant compared to Madrid, where temperatures hover around 40°C (104°F). In Segovia, the average temperature during the summer is 30-35°C (86-95°F) and drops considerably at night.
We hope this post has helped you plan your trip to Segovia and to learn a bit more about this wonderful city. Remember, we hope to see you at our Free Tour in Madrid! Every day at 10:45 am from Puerta del Sol Square (green umbrellas).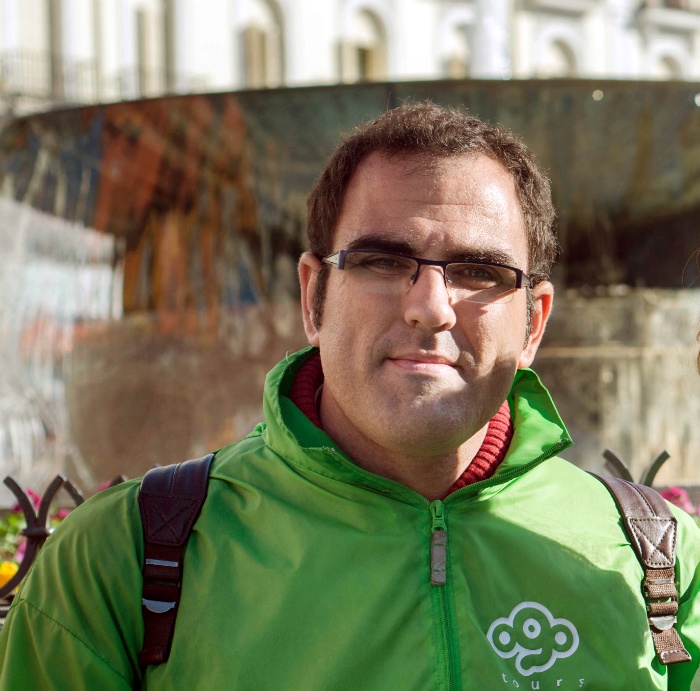 Hola! My name is Javier Redondo, tour guide in Madrid for more than 6 years. Me and my wife, Tatiana, opened OgoTours in 2013 to share our passion for our city.
I studied Tourism but my true calling was always history. From a young age I collected old coins and read history books. Fortunately, fate has allowed me to make a living from my true passion. As a good Spaniard, I love football (I support Atlético de Madrid), eating tapas and walk the cobbleston streets of old Madrid 🙂
This Madrid blog is where I share tips on popular attractions, local food and off-beat non-touristy spots. At the same time, through our tours we want to show the Madrid you never knew and make you feel a local experience.
Do you have any question? You can contact me by clicking the icons below (Facebook or Twitter) or if you prefer, send me an email info@ogotours.com
Social Share