"Patatas Bravas" (Brave Potatoes) is one of the signature dishes in Madrid. Almost every bar in the Spanish capital offer this delicious specialty which has become one of the favorite tapas of "madrileños". When you try "Patatas Bravas" for the first time, you cannot forget the slightly spicy flavor of the sauce. After every bite you need more and more!
Despite being a simple dish, it's not easy to find a genuine "Patatas Bravas". According to experts, the secret´s in the sauce. In OgoTours we give you the keys that you need to cook a genuine "Patatas Bravas" at home just like in Madrid.
Ingredients:
4 garlic cloves
10 tbsp (150 ml) olive oil
2/3 cup (80 grams) flour
2 cups (1/2 liter) water
1 dash of white wine
1 ("Guindilla") dried chilli, seeded and chopped
1 tsp "Pimenton dulce" or sweet paprika
Salt
5 medium potatoes
Method
Heat the olive oil in a pan, add the garlic and fry for 1-2 minutes.
When the garlic goes slightly golden, add the flour and cook for 1-2 minutes.
Add the "guindilla" (dried chilli) and sweet paprika and cook for 2-3 minutes.
Add water and white wine.
Cook over low heat until sauce thickens.
While the sauce is ready, peel the potatoes and cut into wedges.
Fry in plenty of olive oil. TRICK! At first, fry the potatoes over low heat, after several minutes increase the heat. Thus, potatoes will be tender inside and crunchy on the outside.
When the sauce is thick, blend it and add salt if necessary.
Serve the potatoes and spread the sauce over them.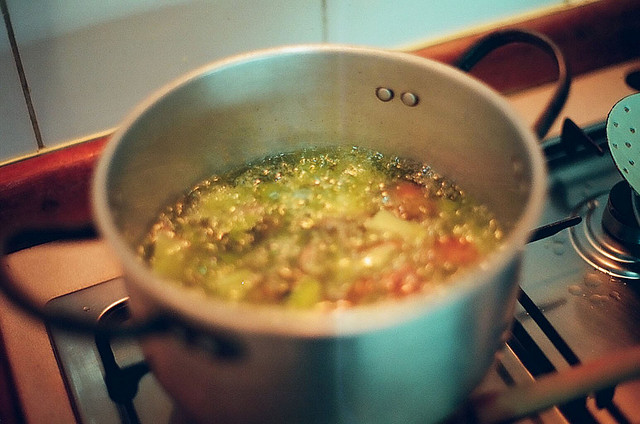 NOTE:
Despite what many people think, brave sauce is made without tomato. The red color is due to the paprika.
Where to eat genuine Patatas Bravas in Madrid
According to an urban legend, Patatas Bravas were invented in Madrid in the 60s. As you can imagine, today it is almost impossible to ascertain this theory.
The place par excellence in Madrid to enjoy a delicious "Patatas Bravas" is the bar "Las Bravas". They have even patented the sauce which has become a secret as mysterious as the secret of Coca Cola. They run three restaurants in the Old Town which is great for tourists. More info www.lasbravas.com
Another place famous for their "Patatas Bravas" is "Docamar" (www.docamar.com) but the only downside is that this bar is located a little bit far away from the centre (address: Calle Alcala 337).
Gastronomic Tapas Tour in Madrid
If you consider yourself a true foodie, join our Madrid Gastronomic Tapas Tour and try the genuine "Patatas Bravas". We will visit traditional bars and taverns frequented by locals to live an authentic Madrid Experience! BOOK NOW and you will receive your tour confirmation immediately.
Photo credits: OgoTours / Baba de Caracol (flickr)