Gastronomy plays an important role in our Free Tour in Madrid. Spain is a country where food is taken very seriously. But if there's one dish that everyone wants to try, it's the traditional Paella. In this post we are going to show you the best places where to eat Paella in Madrid.
Where to eat paella in Madrid?
Paella is, without a doubt, the most international dish in all of Spanish cuisine. We could say that, along with "Jamón Ibérico", it is the best ambassador of Spanish gastronomy. And of course, a great many of the tourists who come to Spain want to take advantage of the opportunity to enjoy an authentic Spanish paella.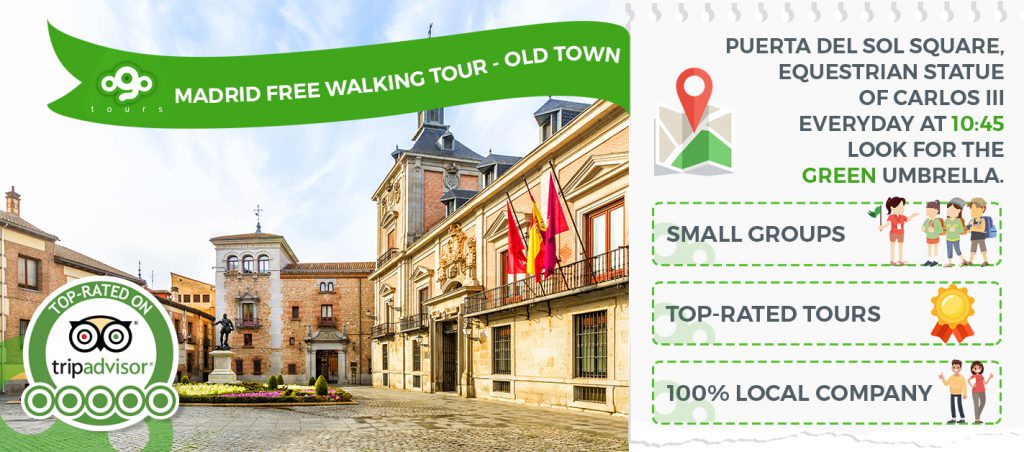 To tell you the truth, Madrid isn't the best place to try paella. This dish is originally from the Valencia region (on Spain's east coast), where rice cultivation began during the Islamic occupation (8th century). This makes the Valencians the true masters of rice dishes. In fact, there are numerous ways to prepare a paella: chicken, rabbit, octopus, seafood, squid, vegetable, mixed, etc. There's a paella for practically every taste.
But just because it is a Valencian dish doesn't mean there's any need to panic. In Madrid, there are many excellent Valencian restaurants where you can enjoy a 100% traditional paella. Let's take a look at our picks for the best places where to eat Paella in Madrid:
La Barraca
This restaurant is one of our favorites in Madrid to enjoy an authentic Valencian paella; they offer exquisite paellas at reasonable prices for the quality. We recommend trying the authentic "Paella Valenciana" and the "Arroz al Horno con Cocido", which contains garbanzo beans, pork, pancetta, blood sausage and chorizo.
Both the exterior and interior décor of the restaurant are classic and elegant. And yet, the prices are not all that high. The price of paella in this restaurant averages about €15–€20 per person.
The restaurant is centrally located very close to the Gran Vía, popularly known as "Spanish Fifth Avenue", putting it very close to the historical part of the city.
Address: Calle de la Reina, 29
Metro: Gran Via (lines 1 and 5)
Average price per person: €20-€25 per person
Casa Valencia
This restaurant is, without a doubt, the most iconic Valencian restaurant in Madrid. Inaugurated in 1975 by Juan Carlos I and Sofia (Kings of Spain), Casa Valencia has hosted all sorts of celebrities, like politicians, Hollywood actors, writers, etc.


Casa Valencia offers excellent paellas in different types, all of them exquisite and faithful to Valencian tradition. But Casa Valencia isn't just about paella; the restaurant has a diverse menu that includes typical dishes in Mediterranean gastronomy, such as fish fries, grilled vegetables, roasted meats, etc.
The average price is a bit higher than other restaurants on this list, but that's because it is a renowned restaurant in the city. Plus, the service from the waiters and overall experience is really excellent.
Address: Paseo del Pintor Rosales, 58
Metro: Argüelles (lines 3, 4 and 6)
Average price per person: €40-€45 per person
La Gloria
La Gloria isn't technically a restaurant, but actually a small bar located near Plaza España, an area full of tourists and offices. Although the restaurant is Andalusia-inspired (southern Spain), La Gloria prepares one of the best paellas in Madrid. In fact, it received recognition for one of the 10 best paellas in Madrid for the third year in a row (2015, 2016 and 2017). This honor was given by the Wikipaella Association, whose mission is to identify, promote and reward authentic paellas across all Spanish territory.
If you want to enjoy this delicious paella, you'll have to come on a Sunday, which is the only day of the week they offer it on the menu. During the rest of the week, you can savor dishes like "Flamenquín" (fried pork roll), "Salmorejo" (cold tomato soup) or "Berenjenas Fritas" (fried eggplant with honey).
Address: Calle Noviciado, 2
Metro: Noviciado (line 2)
Average price per person: €15 per person
Arroceria Ventura
This restaurant is a true paradise for rice lovers, so of course it had to have a spot on our ranking of the best paellas in Madrid.


In total, this arrocería offers 17 different types of rice dishes: rice with meat, fish, seafood, vegetables, mixed, etc. One of our favorites is "Arroz con Costra", which has blood sausage, chicken, garbanzo beans and egg. Simply delicious. Apart from rice dishes, they also offer seafood, tasty appetizers, meats and typical Mediterranean cuisine.
The location, very close to Plaza de Santa Ana, is very good (500 meters from Puerta del Sol). This area is full of restaurants and pubs to have a drink after dinner.
Address: Calle Ventura de la Vega, 13
Metro: Antón Martin (line 1) and Sevilla (line 2)
Average price per person: €20-25€ per person
Saint James (Juan Bravo)
The Barrio Salamanca, the chicest neighborhood in Madrid, has the pleasure of being home to one of the best paellas in the city.
Normally, this restaurant is filled with businessmen because there are many offices nearby. However, on weekends, the clientele is less affluent and the restaurant is calmer. The restaurant's price point is reasonable considering that it's in the most exclusive area in Madrid. The streets of Barrio Salamanca are home to all the luxury brands and the most elegant boutiques in the city.
At Saint James, rice is the foundational pillar upon which the restaurant's philosophy rests. You can choose from among 30 different varieties of rice, from the traditional with chicken, rabbit and vegetables, to a delicious seafood Paella. Another strong point of the restaurant is their wine list. If you go with someone who doesn't like rice, there is also a small selection of meat and fish dishes.
Address: Calle de Juan Bravo, 26
Metro: Nuñez de Balboa (lines 5 and 9)
Average price per person: €40 per person
Alli Oli Valencian Food
In this small restaurant, you can enjoy Mediterranean cuisine, and of course, an authentic paella valenciana. In fact, this restaurant has made the famous Wikipaella list, in charge of identifying the best paellas in all corners of Spain.
All ingredients are brought from Valencia in order to faithfully recreate authentic paella valenciana: the rice, the vegetables, the fish, etc.
And if you want to try cooking a traditional paella at home, you can even buy rice from Valencia at Alli Oli Valencian Food, which is characterized by its small grain and big capacity to absorb flavors.
Portion sizes are large and the prices are reasonable. We recommend trying the "patatas alioli", one of the house specialties.
Finally, the restaurant is located in the picturesque La Latina neighborhood, where the famous El Rastro market is held every Sunday morning.
Address: Calle de Carlos Arniches, 14
Metro: Puerta de Toledo (line 5)
Average price per person: €10-€15 per person
We hope this post helps you decide where you will go to enjoy one of the most famous dishes in Spanish gastronomy.
And if you go to Barcelona, our local friends from Runner Bean Tours show you where to have the best paella in Barcelona.
And remember that if you have any questions, you can always contact us (info@ogotours.com), and we'll be happy to answer them. Warm regards from Madrid 😉
Social Share