Visiting Madrid in two days is a truly complicated task considering the city's numerous attractions: incredible buildings, countless museums, palaces, etc. Not to mention cities like Toledo, Segovia or El Escorial, which are an hour's bus ride from downtown Madrid. We recommend a stay in Madrid of 3 to 5 days in order to get the most out of your visit.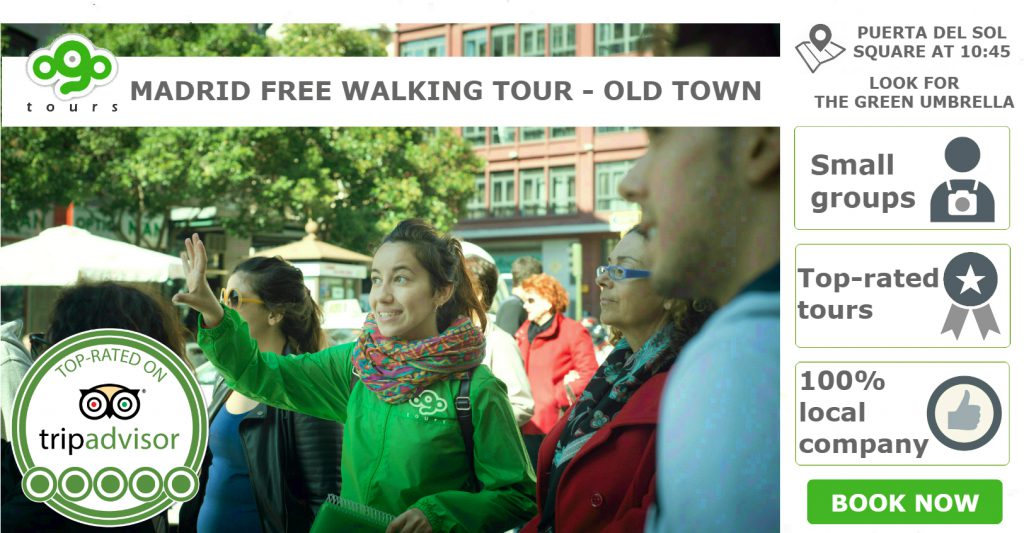 What to do in Madrid in two days
Despite all of the above, we have designed an itinerary that will let you see the main sights of the city in just 2 days. If you want to go deeper with the history of Madrid and explore the city with authentic local guides, make sure you book our tours: Madrid Free Walking Tour and Madrid Inspiring. Let's get started!
Day 1 (Morning)
A breakfast of churros con chocolate at San Ginés. Breakfast is the most important meal of the day, and what better way to start your day than with an authentic Madrilenian breakfast? The madrileños love hot chocolate with churros, especially when it gets cold outside. Absolutely delicious!
After breakfast, we suggest a visit to Plaza de España and the famous Templo de Debod (a temple with more than 2000 years of history donated by the Egyptian government). The temple is situated on top of a small hill where you can enjoy fantastic views of the south part of the city.
Next, visit the majestic Palacio Real. With more than 3000 rooms and 135,000 square meters (about 1.45 million square feet), it is one of the largest palaces in the world. A visit of the inside of the palace will take approximately 1.5 to 2 hours. Across from the Palacio Real, you will find the Catedral de la Almudena, which is also worth visiting.
Leaving behind the Palacio Real, continue up Calle Mayor until you reach Plaza Mayor, one of the most famous places in Madrid. From public executions and bull fights to Christmas markets, this plaza has been the nucleus of the city since the 17th century.
Exiting through one of the arches of Plaza Mayor, you can visit the bustling Mercado de San Miguel. In this gastronomy marketplace, you can find all sorts of delicacies and exclusive products. However, it is a bit expensive by Madrid standards. We recommend eating at one of the restaurants or taverns near the market.
Day 1 (Lunch)
Around Plaza Mayor, you can try the famous "bocadillo de calamares" or squid sandwich, one of the city's specialties. We recommend Bar La Campana, Bar La Ideal or Casa Rúa. If calamari isn't your thing, there are many restaurants and bars around Plaza Mayor where you can enjoy local cuisine. Some of our favorites are La Revuelta (whose specialty is "bacalao frito", fried cod), Bar Cerveriz (whose specialty is Spanish "tortilla", a sort of omelet), and El Mesón del Champiñón (whose specialty is "champiñones", mushrooms). For meat lovers, very close to Plaza Mayor is Restaurante Sobrino de Botín, which has the distinction of being the oldest restaurant in the world (opened in 1725). House specialties include "cochinillo asado" (roast suckling pig) and "cordero asado" (roast lamb).
Day 1 (Afternoon)
Once you've refueled, continue your trip towards Puerta del Sol, sometimes called "Spanish Times Square". This square is the busiest in Madrid and it is the epicenter of the city. Here, you can admire some Madrilenian icons, like the "Kilómetro Cero" plaque (the point from which the kilometers on Spanish highways begin counting) and the sculpture of "El Oso y El Madroño" (symbol of the city).
Walking up Calle Preciados, one of the most commercial streets in the city, you will reach Avenida Gran Vía. If Puerta del Sol is Times Square, then Avenida Gran Vía would be a fusion of Broadway and Fifth Avenue. This is where you will find all sorts of shops, restaurants, theaters and movie theaters. Plus, the buildings on this avenue are very beautiful and make for great photos.
Continuing on Calle Alcalá, you will find the Puerta de Alcalá, one of the most-visited icons in Madrid. This gate was built more than 300 years ago and served as a customs post to control the movement of people and goods coming into Madrid.
To finish your first day in Madrid, we recommend a visit to Parque del Retiro. This place is perfect to rest and relax after an intense day of sightseeing in the city. Within the park are a few spots that you won't want to miss, like the pond, where you can rent small boats, or the Palacio de Cristal.
Day 1 (Dinner)
For dinner, we recommend that you return to the historic city center. Some of our recommendations are:
Mesón El Lacón
Lateral
Restaurante Tragantua (requires reservations in advance)
Casa Alberto

Day 2 (Morning)
A good option for breakfast on your second day in Madrid is the Museo del Jamón. This place, popular with the locals, offers all sorts of sandwiches at very affordable prices.
Visit the Museo del Prado. The museum opens at 10:00 a.m. and we recommend getting there early so that you can make the most of the day. A visit to Museo del Prado will take a minimum of 3.5 to 4 hours. Inside the museum, there is a small café where you can refuel or simply rest for a while.
Day 2 (Lunch)
Once again, we recommend going to the historic city center, which is where the highest concentration of traditional restaurants and taverns is found. If you want to try the famous cocido madrileño (chickpea stew), we have several recommendations:
Restaurante La Bola
Restaurante Malacatín (requires reservations in advance)
Taberna La Daniela

If you are a fan of paella, you can check out our post "Where to Eat Paella in Madrid". You might also enjoy these posts:

Day 2 (Afternoon)
For your last afternoon in Madrid, we have 3 different plans depending on what you're in the mood for, and how tired you are, of course 🙂
Visit Estadio Santiago Bernabeu. This place will delight football (soccer) lovers. During your visit, you can learn the ins and outs of one of the most modern stadiums in the world: the locker rooms, the VIP area, the field, the technical area, etc.
Visit the Museo de Arte Moderno Reina Sofía. This is one of the most-visited museums in Europe, and among its most famous works is the legendary painting "Guernica" by Pablo Picasso. In addition to "Guernica", you'll find pieces by Salvador Dalí, Joan Miró, etc.
Faro de Moncloa. This tower stands 112 meters high (about 367 feet) and offers the best panoramic views of the city. You can take it all in, from the historic city center, including buildings like the Palacio Real and the Teatro Real, all the way to the skyscrapers in the financial district.

Day 2 (Dinner)
A good option would be a tasting of some delicious tapas. Very close to Plaza Mayor is Calle Cava Baja, which is full of bars, restaurants and taverns where you can enjoy local gastronomy. One of our favorites is Taberna de los Huevos de Lucio.
Day 2 (Night)
What better way to end your stay in Madrid than with an authentic flamenco show? Feel the magic and passion of this musical style that will give you goosebumps. To attend a flamenco show, it is very important to make a reservation as far in advance as possible in order to avoid problems with availability. Our recommendations:

We hope this post will help you plan your trip to Madrid. If you have any questions, remember that you can always contact us. We are a local business and we love to help everyone who visits our city. See you in Madrid!
Contact us:
Email: info@ogotours.com
Phone / WhatsApp: +34 660 594 952
Facebook: https://www.facebook.com/ogotours
Social Share